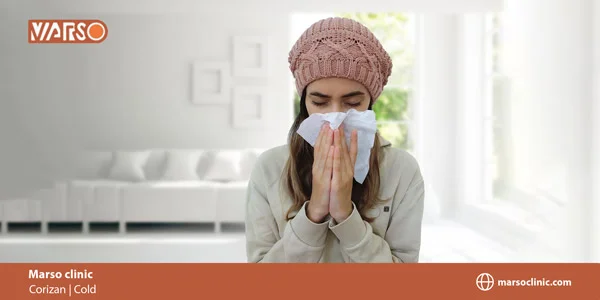 Medicinal forms of colds
Tablets, syrups (for children)
Cold Medication Information
Various cold medicines are made by reputable pharmaceutical companies, all of which are used to relieve the symptoms of colds and flu (cough, runny nose, sneezing and sore throat), allergies, hay fever or other respiratory diseases (such as sinusitis, bronchitis). Placed. Korizan is a medicinal product for relieving colds, coughs, pain and fever in adults (Korizan cold pills or Korizan overnight) and children (in the form of Korizan cold syrup or Korizan pain and fever syrup) made by Dr. Obidi Pharmaceutical Factory. Cough and cold products are not suitable for children under 6 years old, so you should use these syrups to treat your child's cold with a doctor's prescription.
Cold medicine products usually contain acetaminophen or other painkillers and antihistamines. Various cold products (Korizan, Coldax, Cold Stop, Adult Cold, etc.) do not cure or shorten the disease, but prevent serious side effects.
Dosage and method of taking cold medicine
Carefully read the package leaflet before starting treatment with Korizan or other cold medicines. This brochure will help you to get comprehensive information about the drug and its possible side effects.
The dose and amount of cold medicine varies from person to person; Use the medicine exactly as your doctor advised.
The usual dose of cold medicine for adults is one tablet every 8 hours. The amount of Korizan syrup for children is prescribed by the doctor according to the child's weight.
If you forget to take your daily dose of Korizan cold medicine at the appointed time but soon forget, take the medicine; But if you remember when the next dose is near the hour, do not take the missed dose. You should not take two doses of the medicine together because of the missed dose.
Contraindications for cold medicine
Pay attention to the expiration date of the cold medicine and do not take it if the medicine in your hand has expired.
Never give a cold medicine to another person, even if you have the same symptoms.
Check for cold medicines and if you are taking a medicine that interacts with this medicine, talk to your doctor about using your medicines.
If you are pregnant and breastfeeding.
Use of Korizan cold medicine during pregnancy and lactation
During pregnancy and lactation, you should not use the drug arbitrarily without consulting your doctor. Medications can have devastating effects on the fetus or on yourself. Cold medicines are not suitable for use during pregnancy.
The effect of Korizan cold medicine on driving and working with machines
Adult cold medicine causes blurred vision, dizziness and drowsiness, make sure you are alert before driving or operating machinery.
Cold Drug Interactions
Drug interactions may alter drug performance and increase the risk of serious side effects. Make a list of all the medicines (including prescription / over-the-counter and herbal medicines) you use and share them with your doctor and pharmacist. Do not change the dose of your medicine without consulting your doctor or stop taking the medicine.
Some medications that may interact with cold products include skin antihistamines (such as creams, ointments, and diphenhydramine sprays).
If you are taking medicines that cause drowsiness, tell your doctor or pharmacist, including: alcohol, antihistamines (such as cetirizine, diphenhydramine), sleeping pills or anxiety medications (such as alprazolam), alp Diazepam, zolpidem, muscle relaxants, and painkillers (such as codeine).
Check the labels on all your medicines (such as allergies or cough and cold medicines) because some of them are made up of substances that cause drowsiness. Ask your pharmacist how to use them so that you can use them safely.
Cold products may interfere with certain laboratory tests and may cause erroneous results. Talk to your lab staff and all doctors about the medicine you have taken before the test
Special warnings and precautions while taking cold medicine
Some medications may not be prescribed under certain conditions, and some medications may be prescribed if additional treatment is needed; Therefore, it is best for your doctor to be aware of the following before taking Korizan:
If you decide to have a baby, if you are pregnant or if you are breast-feeding.
If you have asthma, chronic obstructive pulmonary disease (COPD), chronic bronchitis, emphysema, lung problems, shortness of breath, sleep apnea.
If you have obstruction of the stomach, intestines, urethra, urinary incontinence, diabetes, gastric ulcer, enlarged prostate, glaucoma or hypertension in the eye, heart disease, hypertension, porphyria and thyroid disease.
If you are currently taking certain medications. These include all available medicines, whether prescribed or used by your doctor, such as herbal medicines and supplements.
If you have ever been allergic to a particular drug.
Side effects of cold medicine
All medications can cause side effects. But many consumers also do not experience any side effects. Some of the side effects go away shortly after taking the medicine. In case of persistent side effects, the physician should be informed:
Dizziness, drowsiness, headache, blurred vision, upset stomach, nausea, constipation, dry mouth, nose and throat
Important Note: In case of severe type of any of the side effects or its continuation, be sure to consult the relevant doctor, especially in the following cases:
Severe allergic reactions (redness of the skin and pimples, urticaria, shortness of breath, shortness of breath and heaviness in the chest, swelling of the mouth, face, lips or tongue), seizures, rapid heartbeat or a throbbing sensation in the chest, decreased Awareness, loss of consciousness, delirium, tremors, wheezing or snoring
Consult your doctor if you have any other symptoms that you feel are due to the use of a cold medicine.
Excessive use of cold medicine
Do not take Korizan more than the dose prescribed by your doctor.
If you feel that someone has been poisoned and you have symptoms such as severe drowsiness, seizures, mental and mood changes (such as restlessness, hypersensitivity, hallucinations), shortness of breath, fainting and weakness (fainting), contact your doctor immediately. Call the emergency.
Cold medicine storage conditions
Keep the medicine out of the reach of children.
Store the medicine in a cool, dry place away from heat and direct sunlight.