General English: Hydrocortisone cream or ointment
Application: Mild inflammatory skin disease such as eczema and dermatitis.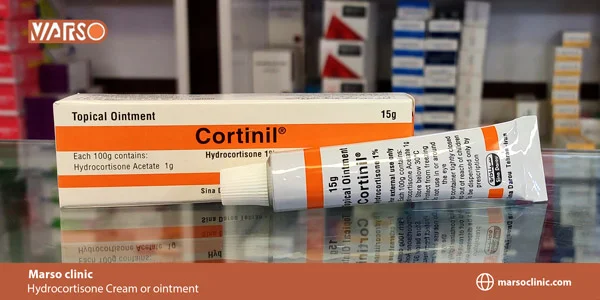 Forms of hydrocortisone
Tablets, ampoules, foams, sticky tablets, ointments, creams
Medication information of hydrocortisone cream or ointment
Hydrocortisone cream or ointment is a mild skin corticosteroid. Topical corticosteroids are also called topical steroids. Topical steroids along with moisturizers are used to treat inflammatory skin conditions such as eczema and dermatitis. A topical steroid is used when inflammation flares up in eczema and dermatitis. Hydrocortisone is also useful for reducing inflammation caused by insect bites. Hydrocortisone cream or ointment is also used to reduce urticaria.
Hydrocortisone cream or ointment can be used with or without a prescription for mild allergic diseases such as dermatitis and insect bites in adults and children. Hydrocortisone is also used as a compound in antibacterial and antifungal drugs. These drugs are also used to treat skin infections such as athlete's foot.
Do not confuse cream or hydrocortisone with hydrocortisone butyrate. Hydrocortisone butyrate is a potent topical steroid used for severe skin conditions.
Hydrocortisone has different dosage forms and uses. For more information on hydrocortisone, hydrocortisone rectal foam, and buccal hydrocortisone tablets, see the page for those medications.
Dosage and method of using hydrocortisone cream or ointment
Carefully read the package leaflet before starting treatment with hydrocortisone cream or ointment. This brochure will help you to get comprehensive information about how to take this medicine and its possible side effects.
The dose and amount of this drug varies from person to person; Use the medicine exactly as your doctor advised. This cream or ointment is usually given once or twice a day.
Wash your affected area and hands before using a hydrocortisone cream or ointment.
Do not use this cream or ointment on areas of skin that have open sores or infections.
Contraindications to the use of hydrocortisone cream or ointment
Pay attention to the expiration date of this medicine and do not take it if the medicine in your hand has expired.
Never give a hydrocortisone cream or ointment to another person, even if you have the same symptoms.
Check for drug interactions, and if you are taking a drug that interacts with this medication, talk to your doctor about using your medications.
Hydrocortisone cream or ointment is not suitable for children under 10 years and pregnant women, unless prescribed by a doctor.
Use hydrocortisone cream or ointment during pregnancy and lactation
During pregnancy and lactation, you should not use the drug arbitrarily and without consulting your doctor. Medications can have devastating effects on the fetus or on yourself. Hydrocortisone cream or ointment is not suitable for pregnant women.
Drug Interactions Hydrocortisone Cream or Ointment
Drug interactions may alter drug performance and increase the risk of serious side effects. Make a list of all the medicines (including prescription / over-the-counter and herbal medicines) you use and share them with your doctor and pharmacist. Do not change the dose of your medicine without consulting your doctor or stop taking the medicine.
Special warnings and precautions when using hydrocortisone cream or ointment
Some medications may not be prescribed under certain conditions, and some medications may be prescribed if additional treatment is needed; Therefore, it is best to let your doctor know the following before taking this medicine:
If you are pregnant or planning to become pregnant or breast-feeding your baby.
If areas of your skin are infected.
If you have rosacea or acne.
If you are under 10 years old. This is because hydrocortisone for children should be prescribed under a doctor's supervision.
If you are taking certain medications. These medicines include all the medicines available, whether you are prescribed them or taking them without a doctor's prescription, such as herbal medicines and complementary medicines.
If you have a history of an allergic reaction to another medicine.
Side effects of hydrocortisone cream or ointment
Short-term use of this drug usually has no side effects, but in the long-term, these steroids may cause thinning of the skin, contact dermatitis, acne, rosacea, and hair growth at the site of application. Although such side effects of hydrocortisone are rare, they can be reduced by applying a thinner layer of the drug to the skin or using less during the day.
 Consult your doctor if you have any symptoms that you feel are due to the use of a hydrocortisone cream or ointment.
Overuse of hydrocortisone cream or ointment (drug poisoning)
Do not take more hydrocortisone cream or ointment than your doctor prescribes.
If you feel that someone has been poisoned and you have symptoms such as shortness of breath, fainting and weakness (fainting), call the emergency room immediately.
Storage conditions of hydrocortisone cream or ointment
Keep the medicine out of the reach of children.
Keep the medicine in a cool, dry place away from heat and direct sunlight.