Do you have acne and your doctor is currently prescribing you Tretinoin?
Do you take oral Tretinoin to treat your acne?
Do you eat Accutane or Roaccutane for your acne?
Has your doctor prescribed topical tretinoin (cream or gel for tretinoin cream) to treat acne and acne scars?
Are topical tretinoins such as ketrel, Adaplen, and… useful in treating acne and acne scars?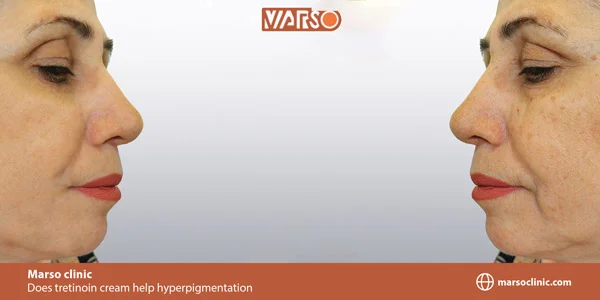 Tretinoins
Tretinoins are forms of vitamin A.
Tretinoins are widely used in skin and beauty treatment products and creams.
Older tretinoins were so irritating to the skin that generally, people who used older natural tretinoin products experienced severe skin irritation, dryness, and flaking in the first three months.
Of course, in most people, over time, these conditions have decreased and it became easier to tolerate the drug. Today, new products have entered the market and are offered under the name of synthetic tretinoins. Generally, these manifestations are less annoying and the consumer will tolerate and compromise sooner than them.
Some of the new synthetic tretinoins are:
Older products such as:
Combined products that result from the combination of Tretinoin and topical antibacterial:
Acne Mycin Plus
Zorak!!
Tretinoin is a derivative of vitamin A.
Various formulated derivatives of vitamin A, such as retinol and retin aldehyde!!, are used in cosmetic creams for acne-prone skin.
The effects of this drug, tretinoin, are very valuable and significant.
Exfoliation and rejuvenation of the skin with compounds containing tretinoin has been proven.
In the first few weeks of taking tretinoin, exfoliation will be the predominant effect of these drugs. With continued use, you will see a significant reduction in your wrinkles.
These compounds will make the skin fresher, younger and brighter if you continue to use it.
Vitamin A is a skin rejuvenating vitamin.
There are different types of tretinoin on the market, your doctor will use the right combination with the right concentration to suit your acne and dark scars according to your condition.
Dark spots or acquired hyperpigmentation on the surface of your skin are removed, and special concentrations of tretinoin are used to exfoliate the lesions of people with psoriasis.
Therefore, it is necessary to see a doctor to choose the right combination and error.
Side effects such as local irritation of the skin, dry skin, itching and burning, and scaling are common early in the use of these drugs.
In addition, in the first few months you may see that your spots have increased a lot, but do not worry, this is a natural way to treat acne with tretinoin.
Basically, the doctor prescribing tretinoin will definitely provide you with the necessary points. By observing the following points, you can have the least amount of side effects and the most amount of benefit from treatment with tretinoin.
Are you one of those people who has received a prescription for tretinoin to treat your acne?
Are you taking oral tretinoin or Accutane or Roaccutane to treat your acne?
Are you taking topical tretinoins such as retin-A, Retinoid, Ketrol, Adaplan
Is oral or topical tretinoin effective in treating acne?
What is the effectiveness of tretinoin in the treatment of acne?
In the following, we have provided everything you need to know about treatment with tretinoin in simple language.
What is the mechanism of action of tretinoin in the treatment of acne?
Tretinoin compounds are commonly used to reduce mild to moderate acne.
This substance is a derivative of vitamin A and will help the skin to regenerate and renew itself.
Tretinoin has excellent effects in reducing wrinkles. Tretinoin -containing compounds have been proven to rejuvenate the skin.
Tretinoins should only be used topically. Avoid using these drugs on damaged skin.
Retin A is the oldest brand containing tretinoins, which is marketed as a natural product.
It is a retinoid acid that is a derivative of tretinoin.
The active ingredient in Retin A products will be tretinoin itself.
Old generation topical tretinoins in the form of items below are offered, such as:
.
Topical tretinoin gel will dry and irritate the skin more than topical tretinoin ointment, and the amount of dryness and irritation of the skin in topical tretinoin creams will be between the ointment and the gel.
The concentrations available in the tretinoin cream market are as follows:
Each of the above products contains 0.25%, 0.05% and 0.1%  mg of Tretinoin, respectively.
The maximum percentage used will be 025% Basically, doctors use the cream form to reduce dryness and irritation of the skin, because the gel form itself adds to dry skin.
Benefits of Tretinoin
Accelerate the regeneration and renewal of epidermal cells or the surface layer of the skin.
Improve the growth and development of new cells.
Replacing young cells with old ones.
Making young, healthy and new skin cells at the site of acne scars.
Prevent new acne from developing.
Abnormal skin oil control.
Lightening of the skin and a clear effect in the treatment of dark spots on the skin
It is usually recommended to apply topical tretinoin to your spots or acne overnight before going to bed on clean, washed skin. The reason for this recommendation is that the sun's ultraviolet light is not good at all on the Tretinoin compounds. Make changes and cause side effects and prevent its beneficial effectiveness.
Effectiveness during treatment
When you use tretinoin to treat your acne, it is perfectly normal for you to experience skin discomfort and irritation in the first few weeks.
Burning and itching of the skin at the site of use is common.
This complication will be the most common complication of topical administration of tretinoin.
The site of use is likely to become very red, dry, and inflamed in the first few weeks of treatment, with itching and burning.
Before you start taking tretinoin, pay attention to the following points:
Topical medicine should not enter the mouth, eyes, nose or vagina.
Avoid use in children without a doctor's prescription.
Some brands and concentrations should not be consumed by people under the age of eighteen.
If you have a previous allergy to tretinoin, if you have an allergy to fish and seafood, if you have a history of eczema and dermatitis, be sure to tell your doctor before starting medication.
Pregnant and lactating women should not take oral and topical forms of tretinoin.
High doses of vitamin A will severely affect the fetus. Although the effects of topical tretinoin on the fetus have not yet been determined, it is recommended not to take any form of tretinoin during pregnancy.
Be sure to read the package leaflet carefully and accurately.
Remember to take the medicine exactly as prescribed by your doctor. Consume in the amount and frequency of prescription, arbitrarily increasing the amount and number of times of consumption has many side effects. Be sure to wash your hands before and after using Topical Tretinoin Cream.
Be sure to clean and dry the area where you are going to apply the cream. This cream should not be rubbed on wet skin.
You should not wash the area where you applied the tretinoin for at least an hour and you should not apply the cosmetic cream for at least an hour.
During treatment with tretinoin, be sure to wear sunscreen, a hat, and sunglasses when leaving home.
It takes a few weeks to a few months to heal, so be patient.
Severe acne will usually get better within eight to twelve months. In refractory cases, be sure to tell your doctor.
Important points to pay attention to?
Tretinoin gel is flammable.
Do not place it near a stove, fireplace or fire. It is recommended that if you want to smoke, allow the gel to dry completely on your face, then smoke.
It is usually recommended to use your fingertip to spread the volume equivalent to a small pea of ​​cream on your skin. This is done once a day and before going to bed. Wash your face in the morning before getting up.
Prevent the drug from entering the mucosa.
Do not use the medicine on the items below:
wounds
Scratches
Cuts
Eczema
Sunburn
If the wrong medicine gets into your nose or eyes, wash them immediately with soap and water. If you have a problem with your eyes, call your doctor right away.
The first week you start treatment, your acne will definitely get worse.
The drug acts on your spots under your skin and makes them flat on the skin.
Do not worry, it will take two to three months to see the positive results of the treatment
Use the medicine regularly, at a specific time of night, to achieve the desired result
What is the mechanism of action of tretinoin in the treatment of acne?
Complications
If you have any of the following symptoms, stop taking the medicine and tell your doctor.
Rash
Swelling of the face
Swelling of the lips
Swelling of the tongue
Swelling of the throat
Difficult breathing
Feeling of suffocation and obstruction of the throat
In what cases should we see a doctor?
Injuries and lesions similar to skin burns
Swelling of the skin
Blisters
Skin discharge
Excessive scaling
Be aware that during treatment, especially in the first weeks of treatment, your skin may become sensitive to wind and cold.
Side effects of topical tretinoin
Mild sore throat
Tingling the area which the cream is consumed !
Mild skin pain
Itching
Increased local skin irritation
What should we pay attention to during the course of treatment with tretinoin?
Do not expose to direct sunlight.
Be sure to wear a brimmed hat and sunglasses when leaving home, wear clothes, and sunbathe even on cloudy days.
Recognition of drug interactions with tretinoin
Skin products include below compounds can increase the damage and irritability of the boost unless your doctor prescribes medication. such as:
Benzoyl peroxide
Sulfurs
Salicylic acid
Resorcinol
Remember that during the treatment of acne with tretinoin, it is necessary to inform your doctor about any type of medication you are taking, including the types of supplements.
Do not use other creams or cosmetics without your doctor's approval.